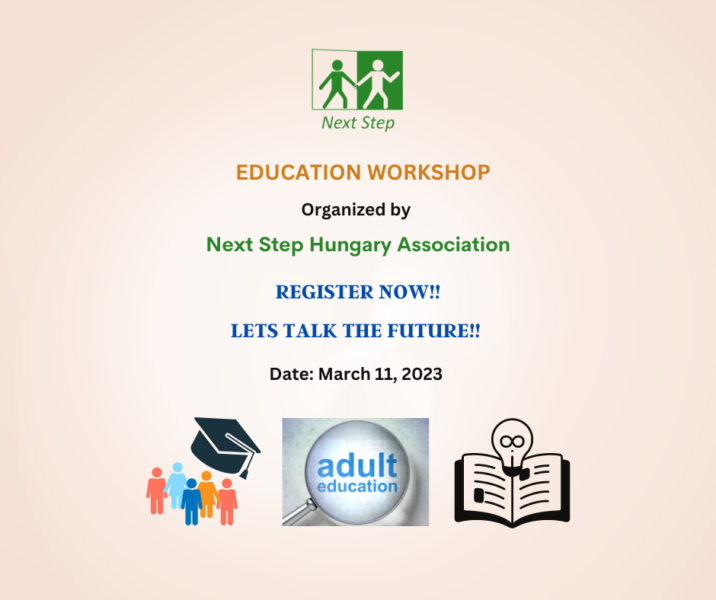 Register for the upcoming Workshop on Adult Education in Hungary
Реєстрація на майбутній семінар про освіту дорослих в Угорщині
---
Next Step Hungary Association invites individuals and interested students to participate in our online workshop session on Adult Education in Hungary.
About the Workshop:
Are you an adult and wondering how to apply to schools and what trainings or scholarship opportunities are available? Are you at a crossroad where you need information regarding education? If so, this workshop is for you! The workshop is tailored to help adult learners understand their learning opportunities and resources available within the Hungarian education system.
Topics to be considered include:
Adult education in Hungary
Alternative to formal educational structures
Identifying suitable opportunities based on your needs
Funding options (self funding and scholarships)
Date, Time and Venue:
The workshop will be held online via Zoom on Saturday, March 11, 2023 between 3pm to 5pm.
This event will be held in English Language with translation available in Ukrainian language.
How to Register:
Please fill in the information below and submit this registration form if you would like to participate in the workshop. This registration form consists of 2 separate sections. Please go complete all sections and then click on "submit" to send us your registration. We will look through your answers and contact you shortly with further details.
Deadline for Registration: Friday, March 03, 2023.
Registration form: https://forms.gle/sAMfCr1ULoq5wWeg6
---
Асоціація "Next Step" в Угорщині запрошує окремих осіб та зацікавлених студентів взяти участь у нашому онлайн-семінарі на тему "Освіта дорослих в Угорщині".
Про семінар:
Ви дорослий і цікавитеся, як подати документи до навчальних закладів, які існують доступні тренінги або стипендії? Ви знаходитесь на роздоріжжі і вам потрібна інформація про освіту? Якщо так, то цей семінар саме для вас! Цей семінар розроблений для того, щоб допомогти дорослим зрозуміти свої можливості та ресурси у навчанні, які пропонує угорська системі освіти.
Теми, які будуть розглядатися:
Освіта дорослих в Угорщині
Альтернатива офіційним освітнім структурам
Визначення придатних можливостей на основі ваших потреб
Варіанти фінансування (самофінансування та стипендії)
Дата, час і місце проведення:
Семінар відбудеться онлайн на платформі Zoom у суботу, 11 березня 2023 року, з 15:00 до 17:00.
Захід проводитиметься англійською мовою з перекладом українською мовою.
Як зареєструватися?
Будь ласка, заповніть інформацію нижче та надішліть цю реєстраційну форму, якщо ви бажаєте взяти участь у семінарі.Ця реєстраційна форма складається з 2 окремих розділів. Будь ласка, заповніть всі розділи, а потім натисніть на кнопку "Надіслати", щоб відправити нам вашу реєстрацію. Ми розглянемо ваші відповіді та зв'яжемося з вами найближчим часом для уточнення деталей.
Кінцевий термін реєстрації: П'ятниця, 03 березня 2023 року.
Реєстраційна форма: https://forms.gle/sAMfCr1ULoq5wWeg6