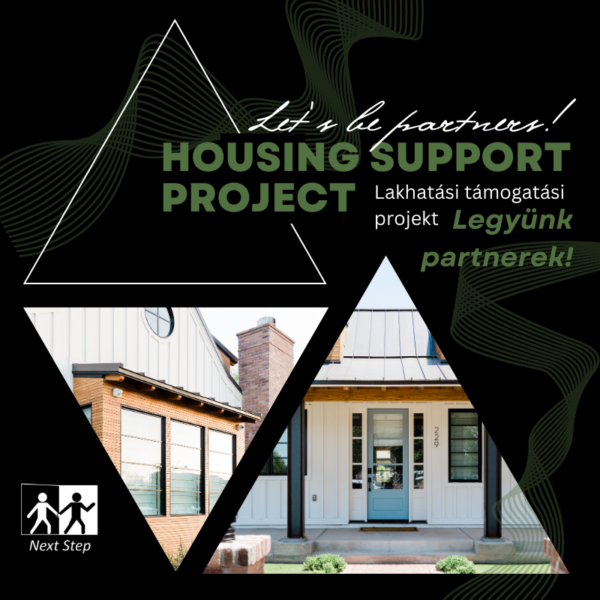 Housing Support and Coordination Partnership Form
Next Step Hungary Association is searching for partners for its housing support project. We are a non-profit organization based in Budapest. We support our beneficiaries with skilled training, information and various services.
Why it is worth cooperating with Next Step:
Next Step Association pays the full cost of the rental services provided by the partners.
You can quickly and efficiently acquire clients who are looking to rent an apartment.
Let's Be Partners:
Next Step will play an intermediary role to connect partners with our beneficiaries. We will cover the costs of your services under this partnership based on mutual agreement.
Your Role as a Partner:
If you are interested in the project and would like to partner with us, your role would be to list potential accommodation options based on the following criteria and share this with Next Step Association.
Criteria: 
Type of property
How many people can be accommodated
Number of bedrooms
Size of the apartment in square metres
Monthly rent
Deposit amount
Location of apartment in district (e.g. XII district)
Condition of the apartment: furnished/unfurnished/optional (in the latter case, please indicate the rent for both options)
Apartment availability: long/short term/both
Date of first vacancy
Link to the page where the accommodation is advertised
If applicable: other relevant information/comments
Once you send this information to our Association, we will carefully compare the apartments you offer with the needs of our clients and connect you with the right apartment seekers, speeding up the process of getting your business and the apartment seekers into accommodation.
If you are interested in becoming our partner or have any questions, fill out the form below and we will be in touch soon to discuss a potential partnership!
---
A Next Step Magyarország Egyesület partnereket keres lakhatási támogatási projektjéhez. Egy budapesti székhelyű nonprofit szervezet vagyunk. Szakképzésekkel, tájékoztatással és különböző szolgáltatásokkal támogatjuk kedvezményezettjeinket.
Miért érdemes együttműködni a Next Step-el:
A Next Step Egyesület a partnerek által nyújtott szolgáltatások teljes költségét állja.
Gyorsan és hatékonyan szerezhet olyan ügyfeleket, akik lakást szeretnének bérelni
Legyünk partnerek:
A Next Step közvetítő szerepet játszana az Egyesület partnerei és kedvezményezettek összekapcsolásánál. A partnerség keretében Ön által nyújtott szolgáltatások költségeit közös megegyezés alapján mi fedezzük.
Az Ön szerepe partnerként:
Amennyiben a projekt felkeltette az érdeklődését, és szívesen kötne partnerséget velünk, az Ön feladata az lenne, hogy listázza a potenciális albérletlehetőségeket az alábbi szempontok alapján, majd az összegyűjtött információt megosztja a Next Step Egyesülettel. Szempontok:
1. Az ingatlan típusa
2. Hány személy fér el
3. Hálószobák száma
4. Lakás mérete négyzetméterben
5. Havi bérleti díj
6. Kaució összege
7. Lakás elhelyezkedése kerületben megadva (pl. XII. kerület)
8. A lakás állapota: bútorozott/bútorozatlan/választható (az utóbbi esetben, kérem, tüntessék fel a bérleti díjat mindkét eshetőségre vonatkozóan)
9. Lakás elérhetősége: hosszú/rövid távú/mindkettő
10.A szállás első szabaddá válásának időpontja
11.A szállást hirdető oldal linkje
12. Esetlegesen: További fontos információk/megjegyzések
Miután elküldi ezeket az adatokat az Egyesületnek, mi gondosan összehasonlítjuk az Ön által kínált lakásokat az ügyfeleink igényeivel, és összekötjük Önt a megfelelő albérletkeresőkkel, ezzel is felgyorsítva a bizniszhez jutásának, illetve a lakáskeresők szálláshoz jutásának folyamatát.
Ha érdekli a partnerségi lehetőség vagy további kérdései vannak, töltse ki az alábbi űrlapot, és hamarosan felvesszük Önnel a kapcsolatot, hogy megbeszéljük a részleteket.