History of Next Step
Next Step was officially registered in Hungary as an NGO in 2009 with the name MigHelp, but our history reaches back before then.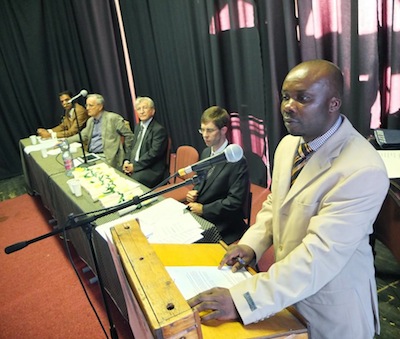 In 2001 James Peter, a refugee from a West African country, was at the refugee camp in Debrecen Hungary when there was a near riot stemming from a conflict between Muslims and Christians. Police were called in to help and the refugees were relocated. From this experience Mr. Peter decided it would be worthwhile for refugees to learn conflict resolution skills. Pursuing this idea, in 2007 he made the acquaintance of an experienced non-violence communication expert, and a series of workshops were held in both Budapest and at the Bicske refugee camp. Later this work expanded to include job training, language skills, and distribution of information.
The entire experience led Mr. Peter and a small, dedicated group of friends and colleagues to the conclusion that a new organization was needed to address the important needs of refugees and migrants. Thus, MigHelp was founded in September 2009, and is today registered as a legal NGO in Hungary.
One of MigHelp's first projects was offering practical job skills trainings of the European Computer Driving Licence (ECDL) program – these accredited lessons include everything from courses in email, to courses CSS, MySQL and PHP. In fact, MigHelp is the only organization to offer accredited the European Computer Driving Licence (ECDL) program in Hungary specifically for refugees and migrants. Collaborating with McDaniel College Budapest, MigHelp has now for several years provided advanced training in web design, database management and other computer technology courses to students who complete the ECDL courses, or who are otherwise eligible.
Another area addressed by MigHelp's efforts is that of language training. MigHelp has provided beginners classes in Hungarian, German, French, and English for migrants and refugees eager to pick up the language of Hungary and other European countries, thereby further encouraging their successful integration.
Today, MigHelp counts among its members many refugees and migrants who in search of a better life in Hungary and Europe. The organization has accomplished much, and is on the threshold of a new era, as it obtained EU funding in 2016 for a new series of projects that continue computer training, language training, while also offering new classes in vehicle driving, and child day care.
Please join our mailing list for email updates and 'like' us on Facebook and read our blog for recent info and news.